Who we are
ABOUT CSCTRUCK MUNICIPAL

200,000 + Trucks Sold per Year

Ship to 196 Countries Around the World

Bookings made Around 2021

20+ Factories Built, 10+ Will be done in 2022
Chusheng Vehicle Group Co., Ltd.(English name as CSCTRUCK) is a leading special vehicle manufacturing enterprise that offers a comprehensive range of services, including independent research and development, design, manufacturing, sales, and import and export trade of special vehicles. The company was established in September 2002 and underwent a restructuring in December 2018 when it joined forces with CRRC Urban Transportation Co., Ltd. to form Hubei Chusheng Automobile. In June 2021, the company underwent a group transformation and was renamed Chusheng Vehicle Group Co., Ltd.
Located in Suizhou Special High-tech Industrial Park, Chusheng Vehicle Group is situated in a region of great cultural significance, known for its connection to Yandi Shennong, chime bells, and ancient music. As the capital of special-purpose vehicles, it has become a leading high-tech enterprise in Hubei Province, committed to innovation and excellence in its products and services.
Chusheng Vehicle Group Co., Ltd., a subsidiary of CRRC Urban Transportation Co., Ltd., is an innovative manufacturer of special vehicles. Established in September 2002, the company covers a vast area of 700,000 square meters, with a building area of 270,000 square meters, and employs nearly 1,000 people, including over 70 research and development professionals. With a robust R&D capability, the company holds over 60 technical patents.
The product range includes liquid tank trucks, wrecker trucks, engineering dump trucks, urban sanitation trucks, fire trucks, vans, livestock transport vehicles, and pressure vessels. The company has specialized production facilities for various product lines and holds specific production qualifications for atmospheric pressure tanks for hazardous chemicals, fire trucks, and pressure vessels. The company's emergency rescue series comprises two types of superior products.
The production and testing equipment of more than 400 advanced special-purpose vehicles can manufacture 30,000 different types of special-purpose vehicles every year. CSCTRUCK's oil tanker and liquid supply truck products are the national sales champions, ranking first in the industry for over ten years and the past three years, respectively. The company's sales volume for road wreckers, aerial work vehicles, and compressed garbage vehicles are among the top three in China. Additionally, the sales of blasting equipment transport vehicles and gas cylinder transport vehicles rank among the top ten in the domestic market segment. The sales of many other products are also growing steadily.
During the 14th Five-Year Plan period, CSCTRUCK aims to leverage CRRC Urban Transportation Co., Ltd.'s brand, technology, and resources to achieve high-quality development of the automobile industry. The company plans to expand its industrial scale, upgrade production lines, and invest in high-quality product incubation through new investments. It aspires to become a top domestic special vehicle technology innovation and demonstration base and achieve a five-year scale of 10 billion in the special vehicle industry.
The Municipal Truck Department of CSCTRUCK(Municipaltruck.com) is dedicated to providing high-quality special-purpose vehicles for various municipal services. With years of experience and expertise, the department has developed a wide range of products to meet the diverse needs of urban and suburban areas.
Our product line includes garbage trucks, road sweepers, water trucks, and other specialized vehicles designed to improve the efficiency and effectiveness of municipal services. Each vehicle is manufactured to meet the highest standards of quality and reliability, ensuring long-lasting performance even in the toughest conditions.
The department's garbage trucks are available in a range of sizes and configurations, from compact models for urban areas to large-capacity trucks for suburban and rural regions. They are designed to efficiently collect and transport waste, helping to keep the streets clean and improve public health and sanitation.
Their road sweepers are equipped with advanced cleaning technology to effectively remove dust, debris, and other pollutants from road surfaces. They are ideal for urban and suburban areas with high traffic volume and heavy pollution.
Their water trucks are designed to provide a reliable source of clean water for various municipal applications. They can be used for street cleaning, dust suppression, fire control, and other purposes, making them an essential tool for maintaining public health and safety.
In addition to their standard product line, the Municipal Truck Department also offers customized solutions to meet specific customer requirements. They work closely with their clients to understand their needs and develop tailored solutions that meet their unique challenges.
With a commitment to quality, reliability, and innovation, the Municipal Truck Department of CSCTRUCK is a trusted partner for municipal authorities and service providers throughout the country.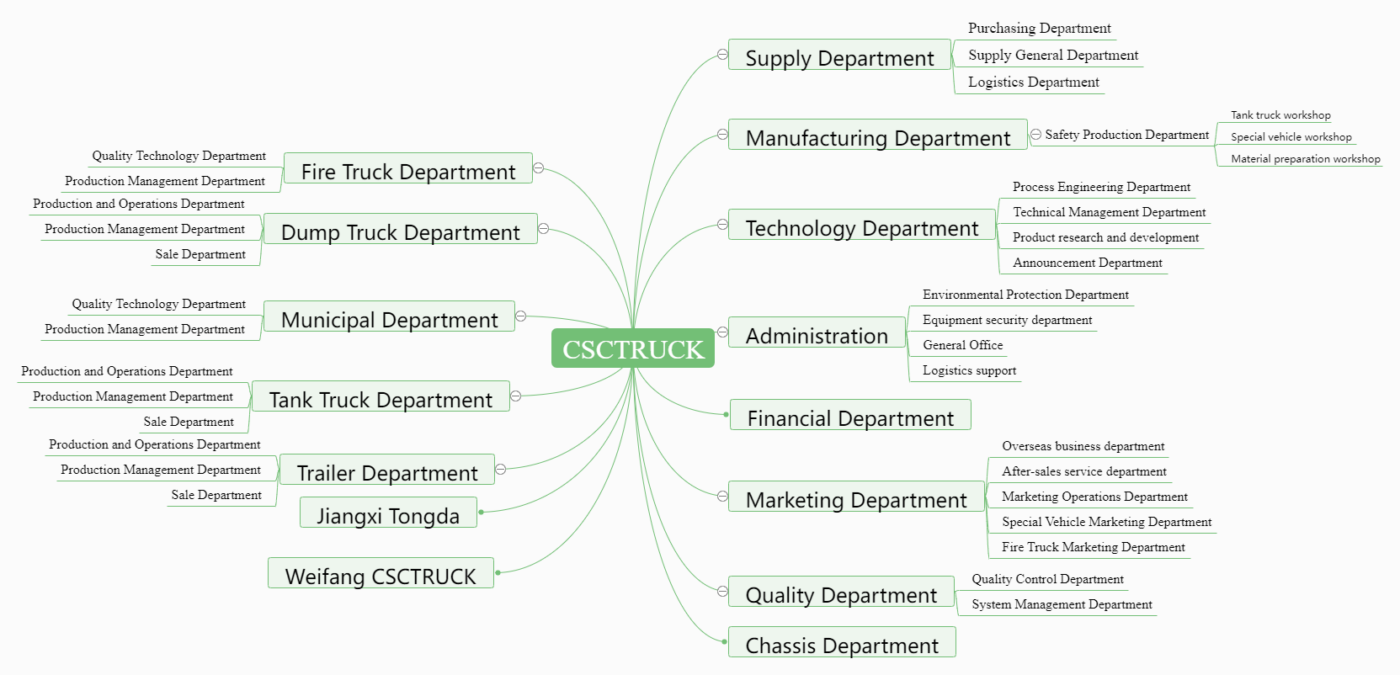 CSCTRUCK Factories/Workshops
CSCTRUCK Municipal mission:
Connect the world, benefit mankind
CSCTRUCK Municipal Vision:
To become a world-leading, transnational first-class enterprise group with special trucks as the core
CSCTRUCK MUNICIPAL STYLE OF WORKING:
Let me do it, do it right away, do it to the best
"We've been able to build something in 20 years that a lot of brands haven't actually gotten to in 100 years."
Tony Wong | General Manager
Play CSCTRUCK's story
Welcome to visit CSCTRUCK(Chusheng Vehicle Ltd) at No. 9, Jiliang Avenue, Zengdu District, Suizhou City, Hubei Province, China.
CSCTRUCK Municipal Partners